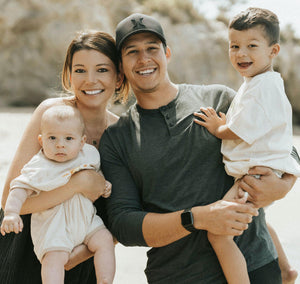 OUR STORY
Hey, I'm Kassidy!
Wife, Mumma and Owner of My Sun Jax. The name 'My Sun Jax' came to me after I gave birth to my first son Jaxon. He really is the light of my life and is also a bit of a beach baby. At MSJ, our aim is to intentionally pick quality, beautiful items for your little sunshines that allow them to adventure in style. I can't wait to see your little one rocking our outfits!
Kassidy x
Ethically Made
We only source from ethical makers, focused on fair wages, safe work environments and no child labour.
Naturally Sourced
All of our products are made from natural fibres, free of harsh materials or chemicals.
Clothing That Lasts
Our pieces are designed to withstand your little one's adventures.